LED Dimming - Frequently Asked Questions
DO I NEED A SPECIAL DIMMER FOR LED LIGHTS?
Yes, you do, but even the best LED dimmer won't dim all LED lights.
First, you should find out if the LEDs you are using are designed to be dimmed. This is usually stated on the packaging or on the instruction leaflet. Dimmable LED lamps (which all have an electronic driver in their base) and other fittings comprised of LEDs and an integral driver, are more expensive than non-dimmable types, so if it doesn't say "Dimmable" on the packaging it probably isn't.
Second, you need to find a suitable dimmer. If your lights consist of an LED lamp or a sealed fitting with an integral driver inside, then there is a wide range of wall-mounted dimmers available any one of which could be suitable. Check the dimmer manufacture's packaging, instruction leaflet or web-site to see if the dimmer you have in mind is described as being suitable for LEDs.
Third, beware of older designs of wall-mounted dimmers, especially if they are rated for loads above 40 or 60W. These were mostly likely designed for old incandescent lights and are most likely very unsuitable for LEDs. If you use one of these you will probably experience significant flickering, buzzing and the early failure of your LED lamp or fixture.
WHAT CAUSES LED LIGHTS TO GO DIM?
All LEDs dim with age. This is a very slow and gradual process and will result, typically, in a loss of output of 20-30% over the course of several years of use. Usually, LEDs will become dimmer and dimmer for their entire life. Unlike the old incandescent filament lamps or fluorescent tubes they have replaced, LEDs themselves do not suddenly fail and go out altogether – rather they gradually fade.
LEDs can also be deliberately dimmed in order to achieve a particular mood or ambience. There are several different ways to dim LEDs but essentially they are all the same. The dimmer, or driver (it depends on what sort of LED light fixture you have) regulates the amount of electrical power (watts) reaching the LEDs. The less power that reaches the LEDs the dimmer they become.
WHAT DOES DIMMING LIGHT MEAN?
Dimming light means reducing the electrical power that enters the lamp or light fitting so that it emits less light.
Light output is measured in lumens (lm). When a light is dimmed fewer watts (W) go into it and fewer lumens (lm) come out than when it was running at full output.
WHAT HAPPENS IF YOU USE NON-DIMMING LED LAMPS ON DIMMER SWITCHES?
If you use non-dimmable LED lamps on a dimmer switch you will almost certainly experience a very poor dimming performance. It is likely to be jerky, not smooth, it won't dim very far and the lamp is quite likely to fail soon.
HOW DO YOU DIM LED LIGHTS WITHOUT A DIMMER?
You can't dim LED lights without a dimmer.
You can make LED lights appear to be dimmer by using a shade, diffuser or reflector, but strictly speaking this is not making the LED lights any dimmer. It is simply re-directing some of their output so that you don't see it.
WHAT IS A DIMMABLE LED LAMP?
A dimmable LED lamp is one which is designed to be dimmed by an external (separate) dimmer.
Not all LED lamps are designed to be dimmed. It is important when trying to dim an LED lamp to find out if it was designed to be dimmed and if so, what type of dimmer should be used. For more information on dimming LEDs, click here
DO LEDs LAST LONGER WHEN DIMMED?
Generally, LEDs will last longer if they are dimmed. The main reason for this is temperature. All other things being equal, keeping an LED cool will extend its life. Over time, the light output of an LED gradually reduces – this is called lumen depreciation. Lumen depreciation occurs more swiftly at higher temperatures. This is relevant to dimming because dimming involves reducing the amount of electrical power that enters the LEDs, and the fewer watts that enter the LED the less heat they generate.
HOW DO I KNOW IF MY LED LIGHTS ARE DIMMABLE?
If the lights being referred to are LED lamps the only way to tell if they are dimmable is to check the packaging, the instruction leaflet and/or contact the manufacturer.
If they are dimmable this will almost always be clearly stated on the packaging because it is a positive selling feature.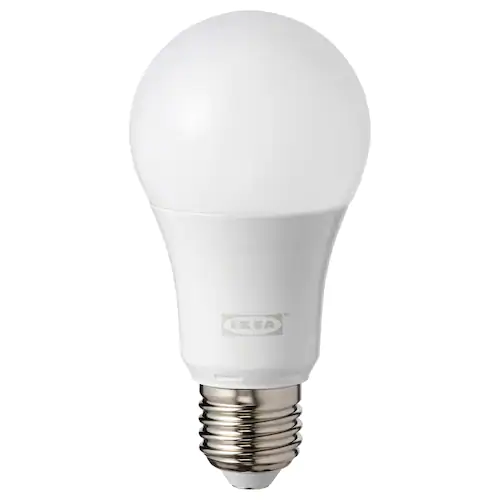 Examples of LED lamps. The only ways to tell if they are dimmable are to check the packaging, check the instruction leaflet or ask the manufacturer.
If the lights being referred to are commercial light fittings with a separate driver, or a driver which is accessible inside the fixture, then you will need to check the writing on the driver. If necessary, contact the driver manufacturer.
A driver as might be found in many designs of commercial light fitting.
Check the markings on the driver to see if it is a dimming driver.
ARE ALL LEDs DIMMABLE?
All LEDs are dimmable. However, as explained elsewhere, all LEDs require a driver, which is a piece of electronics whose main function is to convert mains power (typically 230 V AC) to 12-24 V DC. LEDs operate at low voltage on DC current which is why they need a driver. Whether or not it is possible to dim the LEDs in your LED lamp or light fitting is actually nothing to do with the LEDs themselves – it is all to do with the design of the driver.
Some drivers can be dimmed with an external dimmer. This is how LED lamps work. The driver is in the base of the lamp and, if it is designed to be dimmed, an external dimmer can be fitted on the circuit to dim the LED lamp.
Other drivers are both a driver and a dimmer rolled into one. This is how dimming is achieved in the world of commercial and industrial lighting. An external device (a sensor, a control system or a retractive switch) generates a control signal which enters the driver alongside the mains supply. In response to the control signal the driver than makes the LEDs brighter or dimmer. However, not all LED drivers have this functionality, so some can dim their LEDs and others cannot.
DOES DIMMING LEDs USE LESS ELECTRICITY?
Yes, dimming LEDs uses less electricity. There are several ways to dim LEDs but they all involve reducing the amount of electrical power that enters the LEDs.